Skip to Content
Introducing Our New Director of Wellness: Nick Hueneburg
We are excited to announce the hiring of Nick Hueneburg as our new Director of Wellness. Nick brings a wealth of experience from both the baseball and athletic training worlds to KPI. Nick will be moving to California with his family this Summer and we are excited for him to join the #kpicrew!  This hire closes the gap for KPI, as we can now serve every need for every athlete in the skill, strength, and wellness areas.  
What will Nick be doing at KPI?
The Director of Wellness will be a dynamic position at KPI and in true KPI style, Nick will be wearing many hats in our business.  Here are the primary responsibilities for the Director of Wellness…
Treatment – Nick will be providing various forms of treatment and have open treatment hours for all of the athletes at KPI
Return to Training – Nick will lead our Return To Training program.  Our RTT program allows us to remove injured athletes from the general population and they can follow a plan to health and return to regular training
Strength – Nick is a certified strength coach and he will work on the strength floor with athletes in our development programs.  
Wellness – Nick will lead our efforts with arm care, meal plans, and other areas of athlete wellness
Conduit to Medical World – Nick will be the main point of contact and outreach and will help create systems for referring out and gathering information from the medical world (Medical Doctors, Physical Therapists, Chiropractors, etc)
Why did we make this hire?
We have had a strong desire to close the gap in our offerings since we opened KPI in October of 2020.  We have world class training systems in strength, pitching, and hitting with an incredible staff leading them.  What we didn't have was the staffing and structure to help our injured athletes.  We grew so fast once we opened, we generally just tag teamed injured athletes with our inherent expertise and our internal communication systems.  We relied on our network of healthcare professionals to support us if we needed to refer out for treatment and we graciously received help from those partners in many different areas.  But there were gaps in the system we created and we knew that with the volume of athletes we were training, we needed someone in-house leading the charge so we could provide the same world class system and service to the athletes that need it.
We were very picky and deliberate with this hire, as we knew the importance of it to the athletes that train at KPI.  We interviewed several candidates and reviewed dozens of resumes the last year or so, but we did not feel a good fit had presented itself.  Nick checked the boxes for us… Advanced Degrees in Athletic Training, certified Strength Coach, and a baseball background.  Nick met our stringent requirements, and most importantly, he is passionate about what we are doing at KPI and will be an integral part of our offerings and growth moving forward.  
Meet Nick – The Bio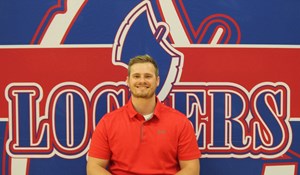 Nick graduated from Tiffin University (TU) with a Bachelor of Science in Exercise Science. Nick played collegiate baseball at Tiffin University. During his time there, he was a two-time All GLIAC Conference and All Midwest Region Infielder. He finished his career at TU being top 5 in career offensive categories for homeruns, hits, RBIs, and total bases. 
At TU, he worked as an Athletic Training Aide in which he assisted TU's Sports Medicine staff in providing health care to all of their Division II student-athletes. He began his coaching career with Riptide Travel Baseball Academy in Durham, NC. He coached for 3 seasons there where he spent time both managing and assisting the 10u, 12u, 14u, and 17u travel teams. He worked closely with player development which included strength and conditioning sessions, camps, and individual lessons.
Nick continued his education at the University of Illinois-Springfield (UIS) where he obtained his Master of Athletic Training degree. During his time there, he completed an independent research study that focused on injury prevention in adolescent baseball players. Nick was also invited to participate in a Student Athletic Trainer mentorship program with the St. Louis Cardinals through the Professional Baseball Athletic Trainers Society (PBATS).
Nick is BOC certified athletic trainer. He holds membership in the National Athletic Trainers' Association. He is also a Certified Strength and Conditioning Specialist (CSCS) through the National Strength and Conditioning Association.
Before joining KPI, Nick worked as the Head Athletic Trainer at Lincoln Land Community College. He developed and implemented arm care programs for the 2022 Logger's baseball program who were ranked #2 in the country by NJCAA DII Baseball Poll to kick off the season. He has a passion for helping the next generation use the game of baseball as a positive outlet to build character and confidence that they can carry with them in whatever future endeavors they pursue.
-BOC Certified Athletic Trainer
-Illinois Licensed Athletic Trainer
-Certified Strength and Conditioning Specialist
-American Heart Association CPR/AED Certified
-National Athletic Training Association (NATA) Member
-National Strength and Conditioning Association (NSCA) Member
Developing Tomorrow's Stars of the Game Today