Skip to Content
The Value of Consistency: 2-Year Pitcher Review
Summary

Growing up athletes are constantly told that being able to play multiple sports in a calendar year will make them a better overall athlete. Although this can be true for some athletes, depending on the sports one plays, when it comes to the majority of athletes there's not a lot of research out there to prove that playing multiple sports will make one a better athlete in a specific sport.  This is especially true as an athlete ages towards the upper levels of a sport, where having high levels of skill and physicality is normally a prerequisite for entrance to those levels.

We are not advocating that baseball should be played year round by all young players, rather we are only pointing out the obvious that playing basketball during the Fall probably is not going to help develop a better sweeper slider for the high school season in the Spring. If the  athlete is just seeking to have a fun, well rounded high school experience then there is not any harm to playing multiple sports. But if the end goal is to play this game for as long as possible, there is a better use of training and playing economy and that would be to focus on the things that can make the athlete better at the specific sport they trying to advance in.

At KPI we have had the pleasure of training a handful athletes in our building for more than 2 years. Out of the 85+ pitchers we have in the facility currently training, 12 of them have been with us since the Summer of 2020. During their time with us, we have been able to gather thousands of data points in areas like bodyweight, throwing velocities, and number of pitchers thrown to get a general idea of what a calendar year of training looks like at KPI. We decided to do a review on what these athletes have done the last 2 years.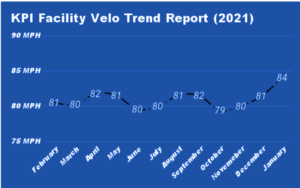 The Year of 2020

The year of 2020 had its peaks and valleys for young athletes. Due to the rise of covid, all competitive sports were shut down and the sports world was put on pause, especially in California.  Luckily at KPI we were fortunate enough to remain open with certain restrictions, but nevertheless we had a spot for these athletes to train and develop.

Starting in the Summer of 2020, we began putting all pitchers into a Ramp-Up/On-Ramp phase due to the long period of time these athletes went without throwing. The reason for this phase is to ultimately increase the overall throwing workload over a long period of time, which in our facility lasts roughly 4-6 weeks.

When athletes finish up with their on-ramp phase, normally they would be put into some sort of maintenance phase (especially in Summer), because they are going to be playing in a heavy amount of games. Due to the Covid situation, these athletes had no games they had to be ready for, so we took a different approach and decided to take them through a velocity phase. We have multiple types of velocity phase programs… we use plyo work and individual drills to enhance the efficiency and quality of movements, and then we use WB velocity work to challenge those movements at the higher intensities. In this particular case, because we had more time than usual, we stretched their velo phase over 6 weeks, but in a normal calendar year this would have been shorter.

As we transitioned into the Fall, we decided to shut down from throwing for 3-4 weeks, and focus on getting after it in the weight room. We used the shutdown to reduce throwing volume & intensity, emphasize mobility & soft tissue work, while working on "feel" drills that would enhance the quality of their movements without stressing the arm. Following their shutdown, we went right into another on-ramp phase as we were preparing for the upcoming spring season of 2021.
The Year of 2021
The year of 2021 we settled back into what felt like normal life. We were able to open up our doors to more athletes, and operate with little to no restrictions. The summer of 2021 was drastically different than 2020, as the travel ball world opened back up, we had to prepare for a different structure than what was previously in place in 2020. 
The majority of the athletes were immediately thrown into travel-ball during the later part of June and beginning of July. We focused on maintaining their workloads, planning out throwing schedules on weekends, pitch limits, and overall throwing limits (two-way guys). We assessed each of their pitch repertoires coming out of season, to revert back to where they were before season, and to set new goals leading into the summer. 
Due to them being in a heavy maintenance phase, we had to minimize the training distractions and focus on what can get them better in game now, so we decided to tailor their training towards pitch design. 
When summer ended, athletes immediately went into a shutdown, much like the 2020 Fall, this included a decrease in overall training workload (mainly throwing), and increased the emphasis on mobility, & strength. 
We saw a huge jump out of the 12 pitchers following their shutdown. Every one of them set new personal records for throwing velocity during the Winter of 2021, and put themselves in a very good spot to get after it in their spring seasons of 2022. To read more about what the '21 Winter entailed, read our  Winter Pitching Review. 
SUMMER '20 TO WINTER '21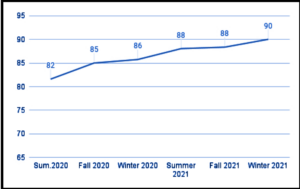 Summer 2020 – Winter 2021 Velocity Trend (12 pitchers)

In 1.5 years, this group of 12 pitchers saw an average increase of 4 ½ mph. (group avg)

All pitchers avoided major injuries and shutdowns
Conclusion
Aspiring athlete are only given so much time and training economy to use during the year, so it cannot be wasted by focusing on potential detractors from mastering the sport that the athlete is trying to advance in.   The key is to surround oneself with individuals that put the athlete's needs and goals first, have an individualized development plan to follow, and hold everyone accountable to following and mastering that plan. At KPI we have done just that with the arms in our program and the results display the incredible success these young men have achieved by investing in their own process.
Developing Tomorrow's Stars of the Game Today