Skip to Content
About Kinetic Performance Institute
The mission at Kinetic Performance Institute is simple; we facilitate complete athletic development by providing the best value to ensure individual success. Our team accomplishes this because we believe in holistic athlete development that improves player performance on the field and builds traits that help them become quality young men and women.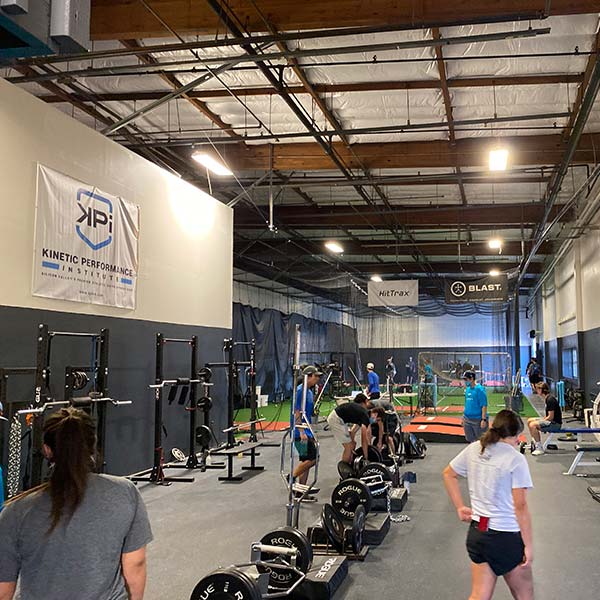 Individualized Training for Better Athletic Development
The difference young athletes find at our performance center is the benefit of individualized training programs for each baseball and softball player that walks through our front door. By taking the unique approach of focusing on individual growth and development, we provide each player with the tools they need to improve their mind, strength, and skills. Our programs are designed and driven by data using state-of-the-art technology for advanced analysis and testing, enabling athletes to reach their full potential.
School Placement and Alumni
Our baseball program is reputable because it provides a viable path from youth leagues to the college level, where local athletes can grow and thrive. We work directly with players in the area to help them realize their goal of playing in college while earning a degree. Our list of alumni who have gone on to play in college includes:
2021
JT Amaral (University of San Francisco)
Garrett Plata (St. Mary's College)
PJ Kissee (Cal State Monterey Bay)
Armando Green (University of San Diego)
Tyler Swan (McKendree University)
Ryan Io (Menlo College)
Tyler Madden (Monterey Peninsula College)
Andre Butler (West Valley College)
Logan Johnstone (Gonzaga University)
Will Conn (Chico State University)
2020
Aidan Lee (University of San Francisco)
Connor Hennings (University of Nevada Reno)
Tyler Keenan (Sacramento State University)
Arthur Soto (Cal State Monterey Bay)
Roberto Nunez (Embry Riddle University)
Zack Buzzetta (Sonoma State University)
Matthew Woods (Whittier College)
Nic Skardoutos (University of La Verne)
Will Waxman (University of La Verne)
2019
Brady Miguel (Cal State Monterey Bay)
Matt Campo (Cal Lutheran)
West Andrade (University of Hawaii)
Garret Santos (Fresno Pacific University)
Jake Ornelas (Cal Poly San Luis Obispo)
Cole Dunne (Sonoma State)
Justin Sakai (Cabrillo College)
Gabe Milos (Cabrillo College)
Jakob Neumayer (Mission College)
2018
Alex Benavides (San Diego State)
Damon Rodriguez (Gavilan College)
2017
Brian Martin (Sonoma State)
Baxter Black (Hartnell College)
Jose Cruz (Gavilan College/Doane University)
2016
Eric Smith (Gavilan College)
Roberto Carcamo (De Anza College)
2015
Michael Porras (Chico State)
Jaxon Sawyer – (University of Arizona)
Sean Harris (The Citadel)
Cayman Willis (Gavilan College)
Asa Jacob (Santa Clara University)
Josh Hernandez (Gavilan College/Simpson College)
Brennan Wilson (Gavilan College)
Matt Peterson (Gavilan College/University of Pikeville)
Conner Starke (Gavilan College/Mayville State)
2014
Mitch Hickey (Oregon State)
Aaron Armijo (Mission College)
Marcus Alipaz (San Jose State)
Bryant Cid (Gavilan College/Sonoma State)
Josiah Liardon (Mission College)
Nick Pignone (Gavilan College)
Alejandro Torres (Cal State Monterey Bay)
Nick Giordano (Gavilan College)
The Ultimate Baseball Training Center in Northern CA
Experienced coaches, technologically advanced digital assessing equipment, and personalized training programs; it's all right here at Kinetic Performance Institute in Morgan Hill, CA. Athletes will find everything they need at our facility led by athletic trainers they will develop meaningful lifelong relationships with. Additionally, we are a complete therapeutic and wellness service facility ensuring that all members receive the care and healing they need to recover from any strain or injury successfully. Contact us to learn more.
Developing Tomorrow's Stars of the Game Today