Skip to Content
No Guessing: Why Athletes at KPI Stay So Healthy
As the business of youth, collegiate, and professional athletics continues to boom, there are more and more athletes experiencing injuries.  While there are some well intentioned interventions taking place at the youth levels to help combat the epidemic, the injury rates continue to rise.  At KPI we take a systematic and tech driven approach to keeping the #kpicrew healthy, so we can use objective facts to guide our systems and decisions.  
The System
The athletes at KPI continue to dominate on the field and get injured at far lower rates than the general population, at every level of the game.  We also are experiencing an influx of athletes that are coming to KPI from other facilities and coaches with pre-existing injuries that seek us out to help them get healthy.  We have robust systems built out for all of these situations, along with an expert staff that can handle these issues with proficiency.  
Return to Training – Any athlete at KPI that experiences a significant level of pain or an injury automatically gets placed into our Return to Training Program led by our Director of Wellness, Certified Athletic Trainer and Arm Care Specialist Nick Hueneberg.  Once in RTT, we use our system to progressively move the athletes through a series of steps to ensure they gradually advance through our system and eventually return to general population training.  We have different protocols based on the type and extent of the injury, but our data displays we are extremely adept at getting athletes healthy and back to normal training and competition.  We have internal communication systems built out so the entire staff can relay messages and stay on the same page with athlete progress.  We also have systems to refer out and/or communicate with our vast network of medical professionals.  This systematic approach to collaboration and communication is key for athletes looking to get back on the field.  
Individualized Assessments – Every athlete that starts training at KPI goes through an extensive assessment where we measure the Central Nervous Orientation and we perform our physical screen, evaluating mobility/stability levels in the athlete.  From there we build specific warmup, arm care, and strength programs that address the individual needs of each athlete.
Arm Care Using Tech and Data – We have moved our arm care evaluation and programming to an entirely tech-based system.  Soon, every pitcher at KPI will perform a daily arm care screen using our arm care sensor from armcare.com.  With this daily testing we will establish a personal baseline for each athlete for their shoulder range of motion and strength levels.  If an athlete displays deficiency in their testing on any given day, we will be able to identify it in real time and adjust their programming on the spot to address their issue.  This preventative approach to arm care will ensure that we address small issues before they turn into large issues.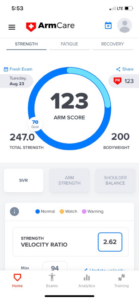 Strength Training Based on Force Plate Data – We use Hawkin Dynamic Force Plates to program all of our athletes strength routines.  With the way we use the force plates, the athletes jump every time they come in to train and we focus on their Central Nervous System orientation (CNS).  The CNS orientation is largely biased towards their age and genetics, but it can vary based on stress and other external factors, especially with older, higher level athletes.  We constantly monitor their jump profiles and we have many programs and progressions we use to train their deficits in their CNS orientation.  This approach is so much more effective than velocity based training or only using peak force output.  The reason it is far more effective is because athletes often are already very good at producing force and reaching a peak power output.  Those athletes need a much different approach to squeeze the most gains out of them and can often enter into injury risk territory if they continually train something they are already wired to be good at, while neglecting a movement bias they are deficient in.  This holistic and nuanced approach to strength training ensures that every athlete at KPI is constantly getting the specific program they need and all of that is based on our incredible technology.  We are also integrating the Proteus Motion more and more, which will take our strength training to a higher level than it is already operating at.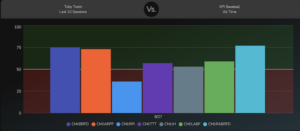 Dynamic and Highly Trained Staff – Not only have we made an incredible financial investment into the technology at KPI, we also have made a huge financial investment in our staff.  The owners of KPI have Masters degrees in Exercise Science and Kinesiology.  Most of the coaches possess degrees in health related fields.  We have hired a Certified Athletic Trainer to be our Director of Wellness.  We also provide bonuses to staff to specifically help them pay off their student loans.  This is an unbiased, high-powered staff that is constantly pushing the limits on athlete wellness.  We already have the most comprehensive and expansive athlete training setup in California and we are not stopping.  We aren't just buying some tech and setting it on the floor… we are creating dynamic systems with an incredible staff that are setting the pace for keeping athletes healthy.  
We are health first at KPI and we are leaving no stone unturned in searching for more ways we can help keep athletes healthy.  We want every member of KPI to understand they are chasing dreams and they can't do that if they are hurt.  We do not want them to be one of the numbers on the wrong side of this equation, we want them to choose the side of health through a systematic program that proves their results.  This is where Dreams Become Realities.  
Developing Tomorrow's Stars of the Game Today