Skip to Content
A 10 Year Plan: The Wade Mountz Story
The story of a talented young man that stayed consistent in his development, leveraged time, and went against the grain to achieve his dreams
Who is Wade Mountz and What's His End Game?
Wade grew up in Morgan Hill, CA and has been in the same developmental program since he was 8 years old.  The youngest sibling by quite a few years, Wade's parents were able to completely dedicate themselves to ensuring Wade had everything he needed to develop growing up.  He played in the same travel organization, trained with the same coaches, and was extremely consistent in his approach to development.  He had a great support system around him and didn't need to hop teams or coaches in search of what he already had.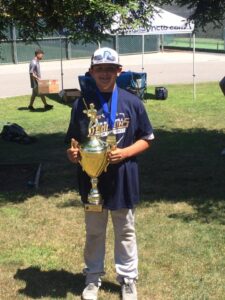 Wade has one outlier trait that has always been a constant for him… he's taller than everyone else.  Wade currently stands at 6'7" and he was always the tallest kid on any team he played for.  With that objective fact, his coaches always knew that Wade had the ability to reach the very highest levels of the game, but they also knew it would take an incredible amount of time and patience by everyone involved for him to realize his potential.  That is still the case to this day, but Wade has done an incredible job of focusing on what's important and he has started to cash in on his potential. 
Wade's dream is to play in the SEC and one day become a professional player.  With his sharp vision on development and his focus to drown out noise, he is well on his way to realizing all of his dreams.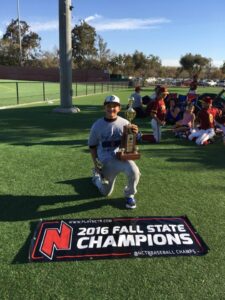 The Conflicts – Overcoming Adversity and Drowning Out Noise
Growing up Wade was a good, but not great, player.  He was on solid travel teams and he generally had fairly easy younger years without much adversity.  That changed as Wade entered high school and started to go through puberty.  Like many ultra-tall kids that grow very fast, he did not have the stability and strength in his body to control all of his long levers and limbs.  For most of his first 2 years of high school he went from nagging injury to nagging injury.  There was nothing ever seriously wrong with him health wise, but ultra-tall kids have a different set of circumstances to deal with than normal sized kids. 
Wade attends a prominent Bay Area high school and plays on one of the most well renowned travel ball programs in the country.  As he transitioned from his freshman year to his sophomore one, he saw many of his friends and teammate start to get national recognition for their playing achievement and a good amount of them started to commit to Division I universities.  This brought the inevitable anxiety and angst of not being on that level yet and Wade wondering if he would get his time to shine like his friends and teammates were. 
Wade has a great support system around him, but there was increased chatter about what the correct path was for him as he went through his early years in high school.  On the recruiting side, he was given consistent advice to wait this out, bet on his development, and the right thing would happen in the end.  He had predominant Division I programs offering him, but we all knew there would be more if he did what he thought he could do with his development. 
Things got especially tricky in the Winter of his Sophomore season and as he entered the Spring high school baseball season.  Wade continued to experience some nagging injuries that needed more time and a deeper dive with physical therapy to address.  He was not ready for the start of high school baseball season and there was not a clear timetable on when he would be ready.  As he progressed slowly through the Spring, there was a collective decision made that he would bypass his high school season to use the time he needed to get healthy.  There were several people in his circle that did not agree with the approach, stating he had to get to his high school season and that college recruiters would not view him favorably if he bypassed his sophomore season.  Wade stayed resolute with his approach and dedicated himself to his development like he never had before.  Because his friends and teammates were immersed in their high school seasons, Wade often had to train by himself, which was a very new dynamic for him.  Thankfully those hours training on his own were the best thing for him, as he found an inner strength and motivation he had not tapped into yet.  Just like most controversial issues, the most profound moments of growth often happen in the flame of adversity.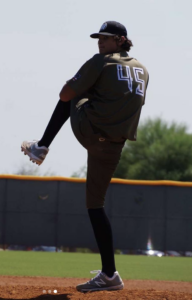 The Ten Year Plan – How Wade Won
Wade and his family went against the grain with their approach to his development.  From the time he entered travel ball at 8 years old, he and his family sought consistency, structure, and the right mindset from those training and coaching him.  They didn't bounce around from team to team looking for more wins and they didn't bounce around from trainer to trainer looking for the perfect setup.  They understood what was in front of them and they prioritized the system and structure they were provided over social status and making decisions with a mob mentality. 
Wade has always had unique physical traits and he has needed a highly structured and individualized training program to fit his needs.  The focus for Wade has always been to provide him with stability with his training so he could control his body better and prevent major injuries.  As he went through his series of nagging injuries, which were inevitable given his age and size, we tapped into our network of medical professionals and got him some incredible treatment with one of our go-to physical therapists.  His PT workouts, combined with the training at KPI and the rest from game competition, was exactly what Wade needed to get him to this past Summer, which served as his breakout and introduction to the baseball world. 
At KPI, we understand completely the patience it takes for some athletes to realize their full potential.  Wade had a different path than many of the other big time high school pitchers at KPI.  This was explained to him and his family at every step along the way and they bought into that vision for him.
 There is a reason we have the most Division I pitcher commits of any training facility in Northern CA and it's because we provide a holistic, one-stop-shop that allows high level pitchers to get everything they need.  We know how to contextualize and personalize situations like Wade's to ensure they reach their potential. 
Wade Had to Choose a Side – He Chose Right
As evidenced in the previous paragraphs, Wade's journey wasn't all sunshine and rainbows.  Not only did he have to dig deeper the past 6 months than he ever had before, he was challenged by us every step of the way.  He had to believe in himself, make tough decisions, and prioritize the right things to get to where he wanted to be.  Wade had to choose… does he adopt a short-term vision and make reactionary decisions?  Or does he believe in his process, prioritize development, and buck conventional thinking?  Wade chose the right side and just received a huge scholarship to one of the top 10 collegiate baseball programs in the nation. 
Wade was challenged to work harder, get tougher, and trust those around him.  He was given a very structured rehab and developmental game plan to follow.  His lifting and throwing program were geared towards having a long on-ramp over the Spring and getting him ready for the Summer.  He did the heavy lifting and then went out and showed it to the world outing after outing this Summer.  He didn't give in to conventional thought and he chose the side of those that are making it, not the vast majority of high school baseball players that don't make it. 
Wade has had dreams since he was a young child to play at the highest levels of the game.  Committing to the University of Arkansas was a massive step towards realizing everything he has ever wanted. 
KPI – Where Dreams Become Reality
Developing Tomorrow's Stars of the Game Today