Skip to Content
The Total Experience: What Happens at a KPI Development Program Session
We have cultivated the experience at KPI to give the athletes in the Development Program absolutely everything they need, all in one place. The structure and format of the sessions at KPI is our true trademark and an experience that cannot be replicated anywhere in Northern California.  We are constantly working to improve that experience, but we feel very confident we are giving the athletes at KPI extreme value and that we cover the totality of their developmental needs.
So what happens during a session at KPI?  Read below to learn about some of the magic we are using at KPI…
Where It All Starts – The Assessment Process
The assessment an athlete receives before starting their Development Program at KPI is the core to everything we do.  Here are some of the highlights of a KPI Assessment…
Tour of the facility – we give each athlete and their family a complete tour of our facility with explanation of all of our technology
Discussion – We get to know the athlete and their family.  We setup accounts, input relevant health information, set goals, and outline how things work at KPI
Movement Screen – We perform the KPI Screen and discuss with the athlete some of their strengths and weaknesses and how it relates to on-field performance
Force Plate Analysis – The athlete jumps on the Hawkin Dynamics force plates and we discus the results and how we would train that athlete.  
De-Brief – We review the results of the assessment and make our recommendations for training
Follow-Up – We send follow-up messages with our recommendations, a comprehensive assessment report, and how to get up and running at KPI.
Next Steps – We have big plans for improving our assessment process at KPI.  Two of the large enhancements to our assessment process is the Advanced Assessment and using the Proteus Motion in our assessments.  The Advanced Assessment adds a complete skill analysis using our technology and a true bridging of the skill and strength worlds.  The Proteus is our newest piece of technology that can train baseball players in unique and highly effective methods.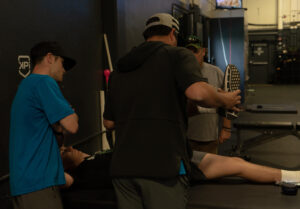 The Warm-Up: Start of a KPI Session
Every Development Program session at KPI is 2.5 hours and the warm-up is the start of that process.  Our warm-ups are highly individualized so each athlete gets exactly what they need to be properly prepared for their session, while also making lasting improvements on mobility and core strength.  
Our warmups attack some of the largest deficiencies uncovered in the assessment process.  We designate whether an athlete needs mobilization or activation, we address their lower half mobility work based on their hip orientation, and we determine the type of shoulder work they need to perform.  The athletes also perform soft tissue work based on their KPI Screen, along with a variety of mobility and activation work.  
This whole process takes about 10-15 minutes, depending on the extent of work an athlete needs to perform.  If an athlete is injured and/or we have added additional warmup exercises based on a previous injury, the athlete might take longer in this phase.
At the end of the warm-up, the athlete does their daily jumps on the force plates so we can constantly monitor their Central Nervous System and determine if changing in their program is needed.
Arm Care & Throwing Program
The next phase of the Development Program is Arm Care and the Throwing Program.  We have every athlete, pitchers and position players, perform this phase.  Much like the warmup, the arm care program can be individualized based on the assessment.  We do some of the basics of arm care modalities like cords, plyo ball work, and shoulder tubes for activation.  But we also take it further with soft tissue work, data readings with a dynamometer, and daily consultations with our professionals.  
The throwing program work is different between position players and pitchers.  For position players, they go through a plyo ball routine to work on movement patterning while activating/strengthening the arm, they do position specific throwing, and then they do normal catch play.  For pitchers, it is highly contextual on a variety of factors.  Some of these factors include: type of day in the weekly template (Recovery, Hybrid, Bullpen, etc), placement in throwing calendar (in-season, on-ramp, maintenance, etc), along with potential modifications due to health concerns.    The pitchers have individualized plyo and regular ball drills to perform based on our biomechanical analysis.  They then move on to normal catch play before starting their skill work.  
Skill Work
Our skill offerings at KPI are some of the best in the industry.  Here's how we breakdown our skill sessions…
Hitting
The hitting portion starts with 15 minutes of tee work.  During that tee work the athletes perform individual drills based on their swing profile, they do bat speed drills with Swing Trainers and radar readings, and they work on movement patterning.  Then they head in the tunnels for the main portion of their skill work.  Each pitch in every tunnel is delivered by a pitching machine.  Pitching machines can challenge hitters in consistent and unique ways.  Hitting in games is extremely difficult, we believe that the training environment should reflect that.  There's no easy batting practice toss that goes on at KPI, we create an environment that is intentional and one that trains the brain/body connection to actually improve hitters in the long-term, not just to get them to complete an easy drill/task.  Every swing in the tunnels is tracked with Blast bat sensors and we use the pre-contact measurements to program their individual hitting drills.  In Tunnel 1 they perform their individual drills off the machine, this station is for the movement patterning of their swing.  In Tunnel 2 they will be performing some focus of the day and that tunnel's data is collected by Trackman.  In Tunnel 3 we will have some kind of game-like scenario or competition and the batted ball metrics are collected by Hittrax.   We run monthly reports using all of the data we collected to ensure the hitters are improving and our programming is effective.  If we find a hitter is not improving based on their batted ball metrics, we will change their program.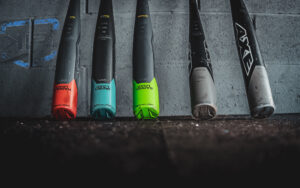 Pitching
The skill work for pitchers is much more fluid and contextual based on some of the previously explained factors.  If the pitcher is throwing a bullpen that day, they will go through their individual drills and progress to their bullpen.  The bullpen sequence they throw is determined by their fastball movement profile and the intensity/repetitions in their bullpen is based on what phase of the year they are currently in.  All pitches in the bullpens are tracked using a Trackman or Rapsodo and the pitchers also get monthly reports displaying their progressions.  If they are not throwing a bullpen, they will still most likely get on a mound for short box work, drills, movement patterning, or advanced work prescribed by one of the coaches.  
Strength Work
The final part of their Development Program session is their strength work.  Our strength program is a true separator for the #kpicrew athletes and we continue to improve the objective measurements used to program strength.  An athlete needs to know they are improving with data, not take a coaches' word for it or used the flawed assumption that if an athlete is moving up weights on a bar then they must be getting stronger.
This is where the use of our force plates come in.  The force plates measure the movement bias of the Central Nervous system.  We are able to determine an athlete's unique jump profile and program strength based on their CNS orientation.  We challenge their deficiencies and then we validate the approach by using the software and reports to ensure the athlete is improving.  These constant checks and balances are a hallmark of every program at KPI.  We are constantly looking for more objective ways to quantify everything we do so we KNOW (not guess) that an athlete is improving.  We also use the force plates to monitor the stress levels of the athletes, particularly our high level pitchers, as we can often view and adjust to telltale traits of fatigue in the pitchers that carry heavy loads for their teams.
As we learn and integrate the Proteus Motion, we will continue to improve our strength system.  We now have the best piece of technology for training baseball players and we are excited to unveil the Proteus to the athletes at KPI.
New Addition and Next Steps
We are constantly improving and our most recent hire is a great example of that.  Starting this Summer we will have a full-time athletic trainer to oversee all Wellness at KPI.  Nick will be responsible for treating any health issue an athlete is experiencing, monitoring our Return to Training Program, and providing consultations on health to all athletes in the Development Program.  This closing of the loop represents our best effort to serve every need of every athlete every time they walk in the door.  As we continue to push the limits of athletic development we will constantly be searching for new ways to improve the athletes at KPI.
Developing Tomorrow's Stars of the Game Today