Skip to Content
Bucking The Trend: Why We Went All In On Staff Treatment & Development
The concept of KPI, created years ago, was to form a business that was completely unique, formed its own niche, and one that would not have competition in the crowded marketplace of youth and adult sports.  Our business model and current offerings reflect that approach, but many don't see how that approach has played out behind the scenes.  The normal mode of operation in the gym and fitness industry is to pay the low level employees a dirt cheap wage, expect turnover at most layers of the employee hierarchy, and consolidate the valuable resources of a business (salary, retirement, benefits) to the upper levels of the staff/ownership.  While this model actually has merit in sustaining this type of business, we chose to go a different direction by prioritizing staff wellness, pay structure, and development while we continue to grow as a business.  This approach actually hurts the bottom line in the short term, but we believe we are reaping the benefits of this approach, as we have assembled an incredible staff that is action oriented with a collective vision to change baseball and softball development for the willing athletes in Northern California.
The History
When we somewhat came out of the Covid lockdown in Summer of 2020, we had a good structure and staff in place, but things were not defined and there was only 1 full-time employee.  Almost all of the employees were contractors that worked 2-3 days a week and basically just showed up… only ownership was really building programs and doing administrative work.  We were forced to leave our old location, open up at our current location, and that is when we made the KPI brand and opened in October 2020.  What seemed like a curse, the long Covid Winter of 2020/2021 and high school sports starting late in the Spring, was actually a blessing for us.  We were able to give staff more hours and dedicate time to building new systems.  A small group of staff members rose to the occasion and clearly proved that they were going to be a part of the future of this business.  We elevated some employees, started to create a staffing structure, and started to think that this could be a real business.  Fast forward to the Summer of 2021 and our thoughts were validated… we sold out all of our Summer sessions and we had an incredible demand for our services.  We knew right then we were on to something but we had a decision to make… take the profits we were collecting and do one of four things…
Disperse profits to ownership – ownership had worked for free for years
Pay off debt acquired by the move to the new location
Invest in creating a stable and lasting staff
Buy new technology and developmental tools
We chose option #3 and we heavily invested in the staff that had proved themselves as essential.  We converted the full-time staff to salary, we immediately gave them medical benefits, and we started a 401K.  This is not the norm in the gym/fitness industry because the prevailing thought is that employees are disposable and the system is all that matters.  While we believe in the power of the system, we knew we were striking gold with our staff and stabilizing the core of the staff became our #1 priority.
The Staffing Structure
Through some trial and error, we have created a great staffing structure that has clear roles and duties.  Here is the structure we are working off of currently…
Ownership – KPI is an employee owned business and has open ownership shares for employees to promote to
Directors – The heads of each department (Hitting, Pitching, Strength, Wellness, Business)

All directors are salaried, eligible for medical benefits, will qualify for the 401K

Coordinators – Support and leads for each department

Eligible for full-time salary, medical benefits, and 401K

Performance Coach – Floor coach for all of the different departments, executing specific tasks
Interns – Young coaches that are learning the systems, on the floor, and building their professional resume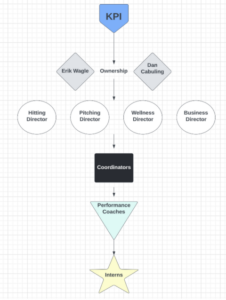 We created this system to give all staff members clear lines of expectations and progression within our business.  We also pay our hourly coaches a very competitive rate.  We want them to feel valued and empowered, but we also want them to earn their keep and strive for the upper levels of the staffing structure.  We have been able to accomplish both goals with this structure.  A large challenge in our geographic area is that the tech companies in Silicon Valley have severely inflated starting wages for entry level employees.  Our coaches are extremely qualified with degrees and advanced certifications, but the norm in this industry is not to complete with employers that can pay more.  We try to compete but know that the people working in this people could make more money elsewhere, but we have created an environment and structure that is extremely attractive to our coaches and we provide enough to keep them here long term.
We currently have 8 full-time employees, and this Summer will have 30 different staff members working with the hundreds of athletes that will be in our sessions.  This is a far cry from the 1 full-time employee we had just 2 years ago, but a great example of the incredible growth and business we are creating.  We have internal training systems in place for every new hire so employees can quickly learn and get up to speed with how things work with the #kpicrew.
The Why
So why did we go this direction with our staffing strategy?  The answer is simple… we aren't just trying to be a business that makes it, we are trying to become a truly great business.  To do that, we must invest in the people of this business.  That is why we put the athlete at the center of everything and this is why we have invested so heavily in our staff.  We know the brain power, work ethic, and consistency we have created with our staff will carry this business to places it would never go if we penny pinched every employee we had.  When we reach the status of a great and valuable company we know our vision and return on investment will be high.  We believe in our staff, they have green lights to dominate their departments, and we have invested heavily in them.  The incredible product we provide every athlete that walks in our door, youth through professional, is a direct result of the great staff we have working at KPI every single day.
The Future
We have a very clear vision on where this business is going and the goals we are trying to accomplish.  The staff at KPI will be the reason we reach those heights.  We have plans to continue to promote within and we hope that several of our employees promote up to ownership one day.  We are going to continue to invest heavily in our staff and give them all the tools they need to drive incredible results in our business.  We are spreading our wings and plan on the continual growth of our company to be able to attract quality employees from all over the country.  We know that this is not the trend in this industry and that is why we are doing it… greatness doesn't happen by following the norm.  Greatness lies outside of the normal and we are allowing our staff to prove us right every single day.
Developing Tomorrow's Stars of the Game Today